I followed your lead and chose the Kusha Kusha Scarf as my first Habu project.
Because I read about the needle choice for such a slippery yarn as silk stainless I casted on with one of my beloved wooden circulars. But the tip is not as pointy as would like to had it especially for the first row. While knitting this first row I brooded what in hell´s name got me to start such a mad thing: Knitting two razor-thin threads with such a thick needle :o
...but I kept on knitting ... and a few rows further I was reconciled with the result. Ufz...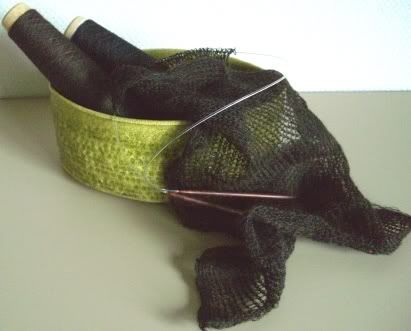 After 15 rows I had to pack away my knitting in my project bag and when I took it out next morning there was a ugly bend across my knitting. The stainless has kept this bend in mind and I can´t get it out anymore. I tried nearly everything but I didn´t succeed :-(
Any suggestions?